The way people consume media and gather information has changed drastically over the past 5 years. Cable is largely obsolete, there are more streaming platforms than just Netflix and Amazon, and nearly everyone is making a Podcast. In this digital age, to be seen, heard, and relevant, you need to make sure you reach the right audience; otherwise, it is too easy to get lost in the noise.
A great business plan can only take you so far if you don't have a strategic marketing plan. However, in conjunction, these two plans can set your real estate school up for success. Therefore, it is crucial to generate a marketing plan that meets the needs of a mainly digital audience.
When creating a marketing plan for your business, you want to research and figure out what/who is your target audience. You should make a list of demographics, location, and age, and, from this, develop an actual person (often called a persona) with a name and relevant audience details.
Marketing efforts have moved almost fully digital in recent years. Social media ads have weaved themselves into our feeds, and tracking pixels have advanced to gather more demographic information.
Within your marketing plan and the persona you created, you must have them on some type of social media. This is where you formulate your plan to make sure you hit the necessary platforms to reach your audience. If your target audience is from 18–25 years old, you probably want to focus on the main four: LinkedIn, Instagram, Snapchat, and TikTok. However, make sure you keep up-to-date because if you target an older audience, you will want to opt-out of Snapchat and choose Facebook instead.
When creating posts for social media, be sure to include a mix of content-related posts, and share insights, course information, and upcoming events. A healthy mix of content and marketing-related posts has been proven to produce the best engagement.
However, social media is not the only way to reach your audience. Throughout this article, we will discuss keywords you need to add to your vocabulary and the latest trends.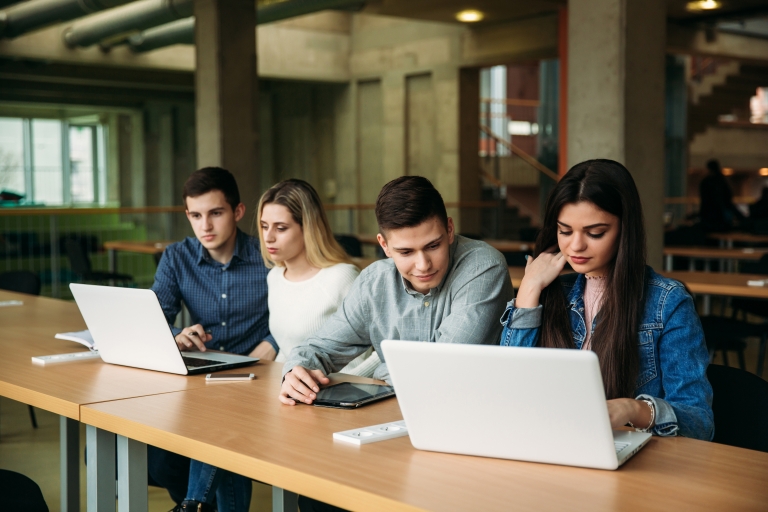 The marketing realm is constantly changing, and with this evolution comes different techniques for navigating and reaching your target audience through digital marketing. One minute you have the best practices, and the next day a new one has emerged.
SEM, SEO, paid, earned, and organic all seem like a bunch of random words, but in this technology-based business environment we live in, these words weave themselves into the daily lives of every company. Search engine marketing (SEM) is a standardized tactic in marketing for companies. If you can't be found on Google, you may need to revisit your business strategy. Search engine marketing (SEO) is how you optimize SEM; it is making sure you rank on search engines. You can do this by using keywords and making sure the slug and meta contain the needed information. So again, if you notice your web page isn't on Google, chances are you have inadequate SEO and should look into this. Check out this post to learn more about SEM and SEO.
Let's look at other marketing channels: direct, organic, paid, shared, and earned. Direct is someone typing in the exact web address and going straight to the site. Organic is using the right keywords and content on your site to ensure you are seen during web searches. Many web platforms provide free tools to help you determine the best keyword and content mix to engage your audience and attract new students.
Paid search is when you have an ad on social media or a boosted post. It can also look like lead generation or sponsored content. Shared media is shared on a third-party platform, such as when someone likes, comments, or shares a post. Finally, earned media is attention and publicity gained through efforts excluding paid marketing. Right now, a big trend for earned media is influencer marketing and ambassadorships. Podcasts are a great way, as well, to add content marketing to your business, along with webinars and blog posts.
Email marketing is still relevant, and utilizing this to send a newsletter and updates is a great idea for engagement. Gathering an email list composed of past students and prospects provides an excellent opportunity to send relevant and timely emails about new content, upcoming classes, or news about your school. Find more real estate marketing tips for your real estate school that will help you stand out from the crowd.
Trend Predictions
As we head into the coming years, there are some vital trends to become aware of. First, as digital marketing continues to weave itself into the middle of society, businesses need to be ready to acclimate to the different skill sets required for successful digital marketing. This must include content marketing as it will be important to try to hold webinars and write eBooks or blog posts to help drive your business and set yourself apart from the competition. Second, the internet is a vast domain dominating every brick-and-mortar business and copping away customers left and right. Third, customer retention is something many companies need to add to their business and marketing plans. Acquiring new customers is how you grow, but losing existing clients is how you fail. Finally, the internet has endless realms of knowledge, so make sure your school is indispensable to your students.
https://dearbornprod.s3.us-east-2.amazonaws.com/IRC/08/10/2021/242ba80f19f39c14a5c8f4dc95b1ebba/AdobeStock_200078044-scaled.jpeg
1707
2560
[email protected]
https://dearborn.com/wp-content/uploads/2015/02/logo3-300x138.png
[email protected]
2021-08-10 14:38:49
2021-08-10 14:53:09
How to Market Your Real Estate School to Reach the Audience You Want in a Digital World